JOIN EATIFUL YOUR WAY
Choose your plan
There are several ways you can enjoy Eatiful.
However you want to learn, whatever support you need, there's something for everyone.
Check out our flexible memberships, starting at £free.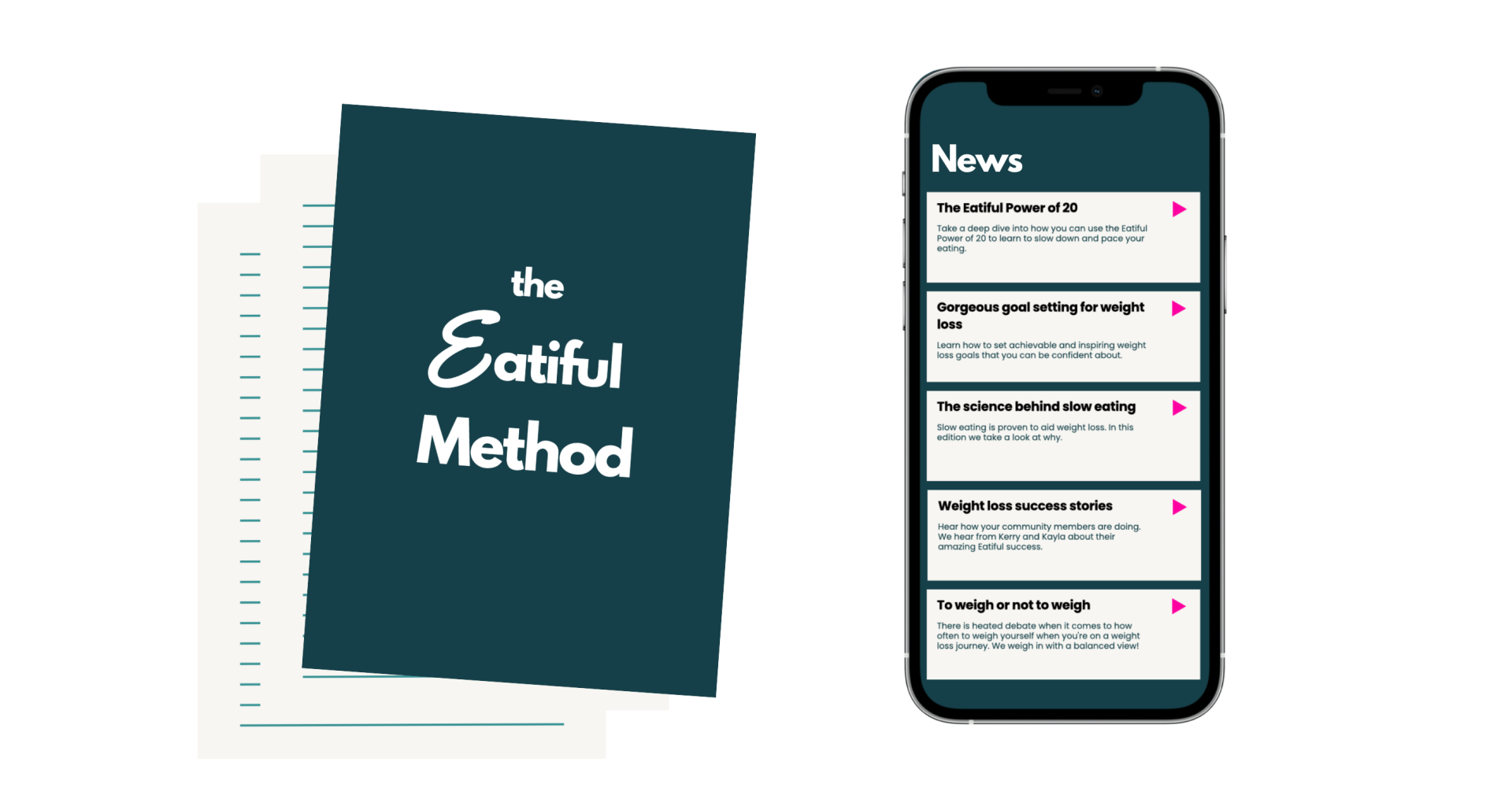 Starter
£0/mo
The non-diet weight loss programme you can join for free. Eatiful Starter offers members access to the groundbreaking Eatiful Method and regular Eatiful News + a 10 Day Email course to help you get started.
Eatiful News

Eatiful Tip and Tricks


Special Offers

Eatiful Method to download and keep

10-Day "Eatiful Method" Email Course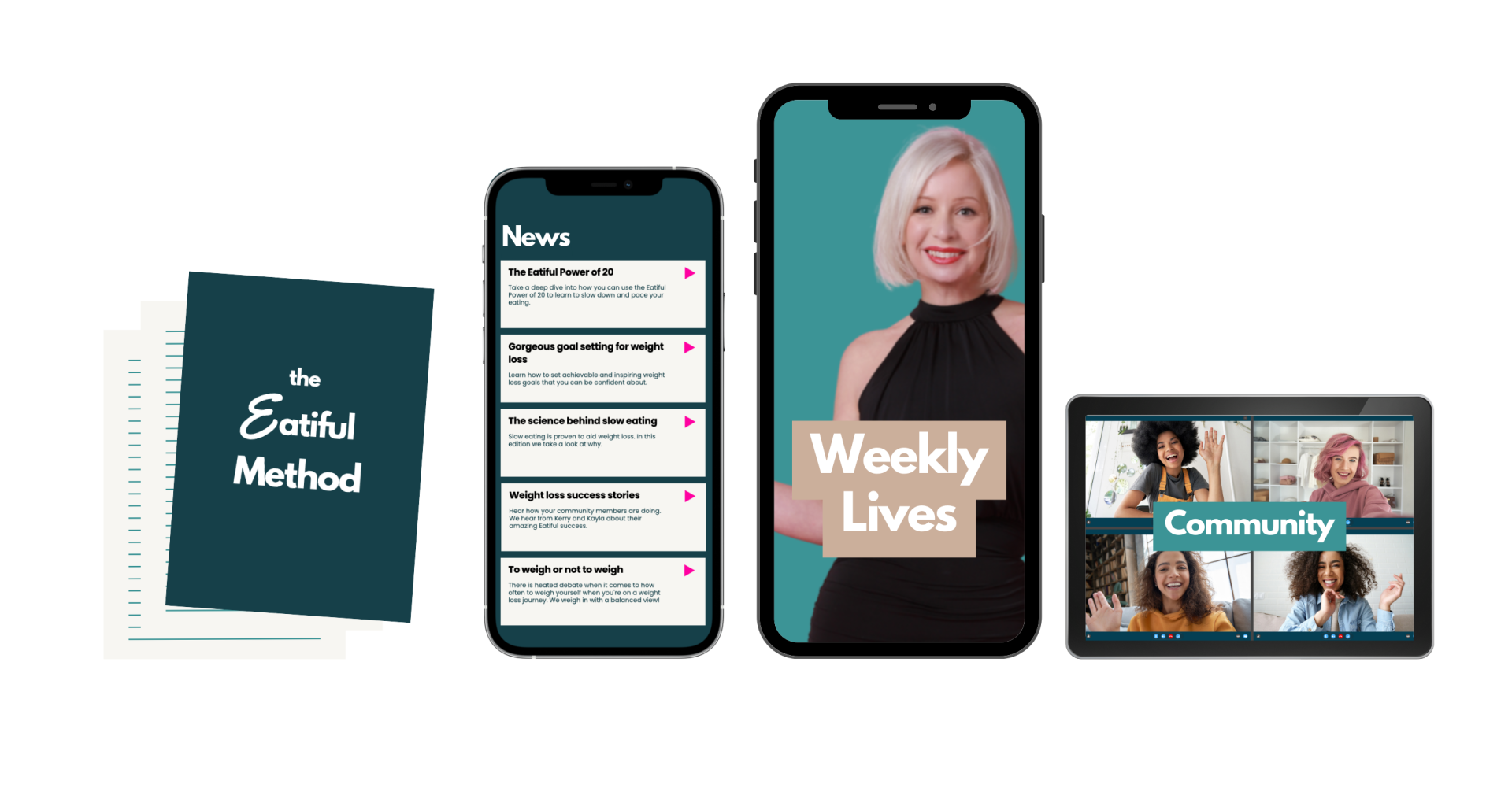 Group
Eatiful Group offers weekly live online support sessions with Eatiful Founder Katie Lips and other Eatiful behaviour change and weight loss coaches.
Eatiful News

Eatiful Tips & Tricks

Special Offers

Eatiful Method to download and keep

Weekly Live Sessions

Advice & Support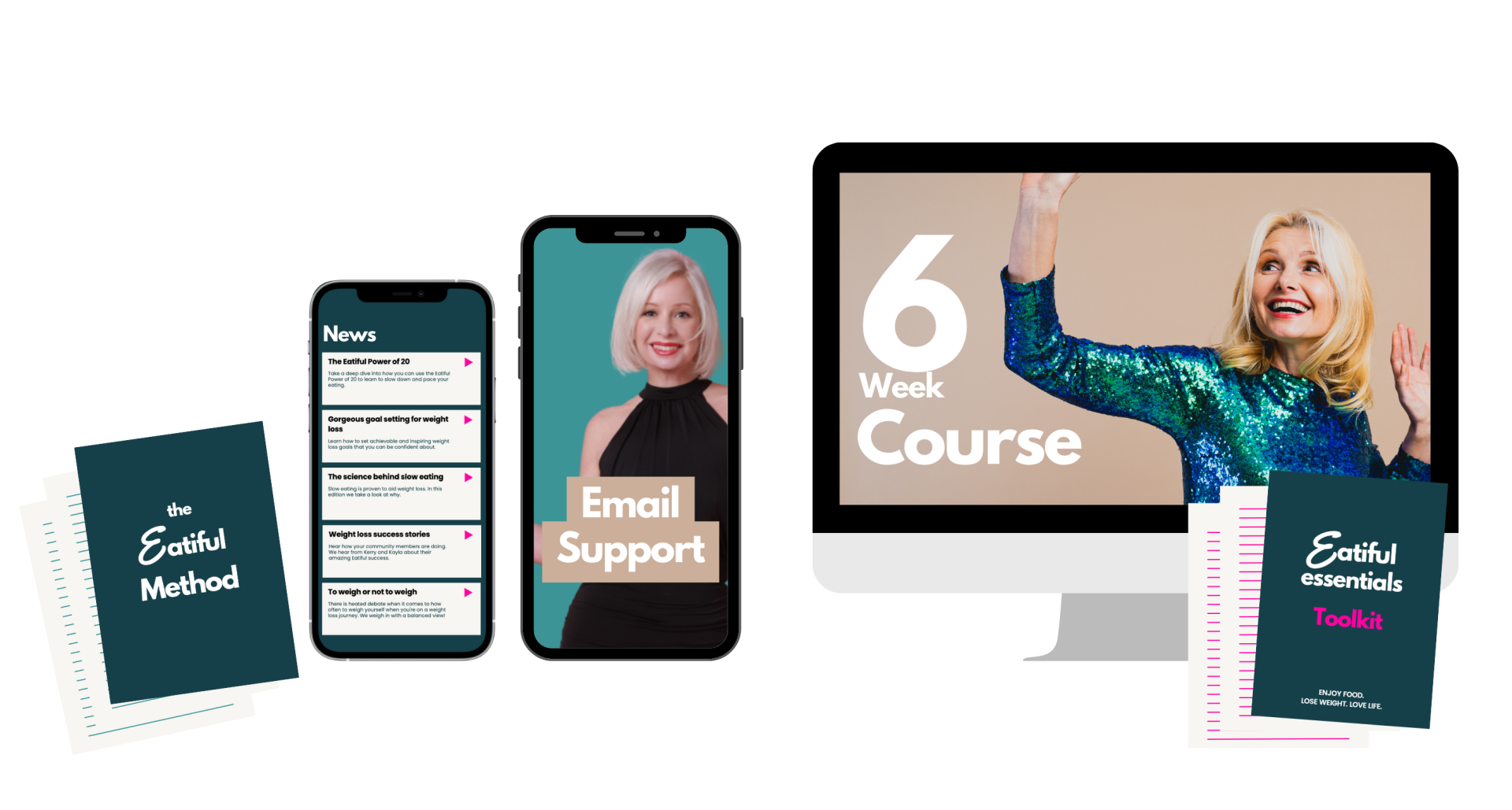 Essentials
£59 one-off
A 6-week immersive online course to kickstart your weight loss with support and advice all along the way.
Learn, practice, enjoy.
Eatiful News

Eatiful Tips & Tricks

Special Offers

Eatiful Method to download and keep

Email Support

6 week self-guided course

Keep forever resources

Interactive quizzes
See how it's working
Here's what some of our members have to say.
"Since starting, I've lost 5kg already. Although I am still 'in progress', I have lost some weight! "
AMICZY
"I can now separate emotions from eating and understand when hunger strikes that I just need to take a step back. I've lost over 12 pounds and I am happy with my progress. It's not about the end goal and more about the journey. My weight loss is more sustainable this way."
HANNAH
"One of my favourite tips is to drink a glass of water, which helps take away hunger pangs. I've lost around 7 pounds since I started. "
ZOE
Frequently Asked Questions
Eatiful is different. Intentionally so.
Here are some answers to a few questions that Eatiful members have asked.
I've signed up for weight loss programs in the past and they haven't worked
We hear you! We think most weight loss programmes fail because of the focus on what you eat. At Eatiful we focus on changing how you eat. Changing how you eat is not a temporary quick fix, it's something that once you've learned, you can do forever because it's enjoyable.
I find it hard to stick to diets, will I find it hard to stick to Eatiful?
We know, and we've been there! Diets take away your control around food, and as such, they're super hard to stick to. While many people lose some initial weight on a diet, the weight comes back on once they stop. And they always stop because the diet is not what they desire. Diets are by their nature, hard to stick to. Eatiful is totally different. As it's NOT A DIET. As it focuses on increasing the pleasure you get from food, most people find Eatiful to be very easy to do.
But seriously, what will I be eating on Eatiful?
Eatiful is genuinely not a diet. It's not even like those other weight loss programmes that aren't diets but then tell you what to eat and offer you recipes and a meal plan ;) This really is not a diet. We will guide you to learn to listen to your body and choose food that's right for you to support your goals. We believe people should be excited by food and should enjoy every mouthful, so get ready to enjoy yourself.
I love food. Is Eatiful for me?
Eatiful is for anyone regardless of what and how you eat right now. Eatiful works for people who eat 'healthily' and those who feel they eat less healthily. We never judge what you eat right now or in future. What you eat is your choice.

Whatever food you eat, Eatiful can help you make changes to how you eat. Changing how you eat can have a big impact on how much you enjoy your food and on your weight. We can help you love food while losing weight.
Do I get a diet or meal plan with Eatiful Essentials?
Nope. Sorry. Actually, we're not sorry. Telling you what to eat would be silly because only you know what your body needs right now.
Should I come off my diet before I start Eatiful Essentials?
If you are already on some sort of restrictive diet for weight loss, once you start learning the Eatiful method, you will understand why restricting what you eat doesn't help in the long run. That said, Eatiful doesn't tell you what to eat, so if you are on a diet you like, you can continue. If your diet is making you miserable, however, switching to Eatiful will show you a whole new way of eating.
Do I need to buy special or expensive food?
Eatiful is designed to help you enjoy food and lose unwanted weight whatever types of food you prefer. You don't need fancy foods or ingredients.
I have dietary requirements. Can I use Eatiful?
Because Eatiful is about stopping overeating, what you eat matters less than HOW you eat. You can use Eatiful if you're a meat eater, a vegetarian, a vegan, or if you follow a low sugar or low GI diet, or are diabetic. You can also use Eatiful regardless of any religious dietary restrictions or cultural preferences. Even 'fussy eaters' can enjoy food with Eatiful!
Mindful eating is a practice that involves paying attention to the act of eating and being fully present in the moment while eating. It encourages people to be aware of their physical and emotional feelings, thoughts, and sensations related to food, eating, and hunger.
The main goal is to develop a deeper understanding of your relationship with food and to help you make more conscious, healthy, and satisfying choices.

Many of the aspects of mindful eating change how people eat. For those of us who usually overeat, mindful eating can be incredibly helpful in helping us to lose weight.
How is Eatiful different?
Eatiful takes the best principles of mindful eating; the ones that are likely to help you with weight loss and adds even more.

We add thoughtful self-nurture, cues to stop eating when you're full, reflection, daily habit-forming journalling, goal setting and progress tracking to ensure weight loss is easy and enjoyable.
Created with