JOIN THE MOVEMENT
Eatiful Group
Eatiful Group offers weekly live online support sessions with Eatiful Founder Katie Lips and other Eatiful behaviour change and weight loss coaches.
Weekly Sessions

Live online support and group coaching

Interactive

Learn live and chat with experts about weekly topics

Exclusive Access

Work directly with Eatiful founder and coaches

Engaging content

Tips, stories, shares: how to make Eatiful work for you

Exclusive Content

Deep dive into discussion: get in-depth help with the method

Make new friends

Get to know the group and how they're using Eatiful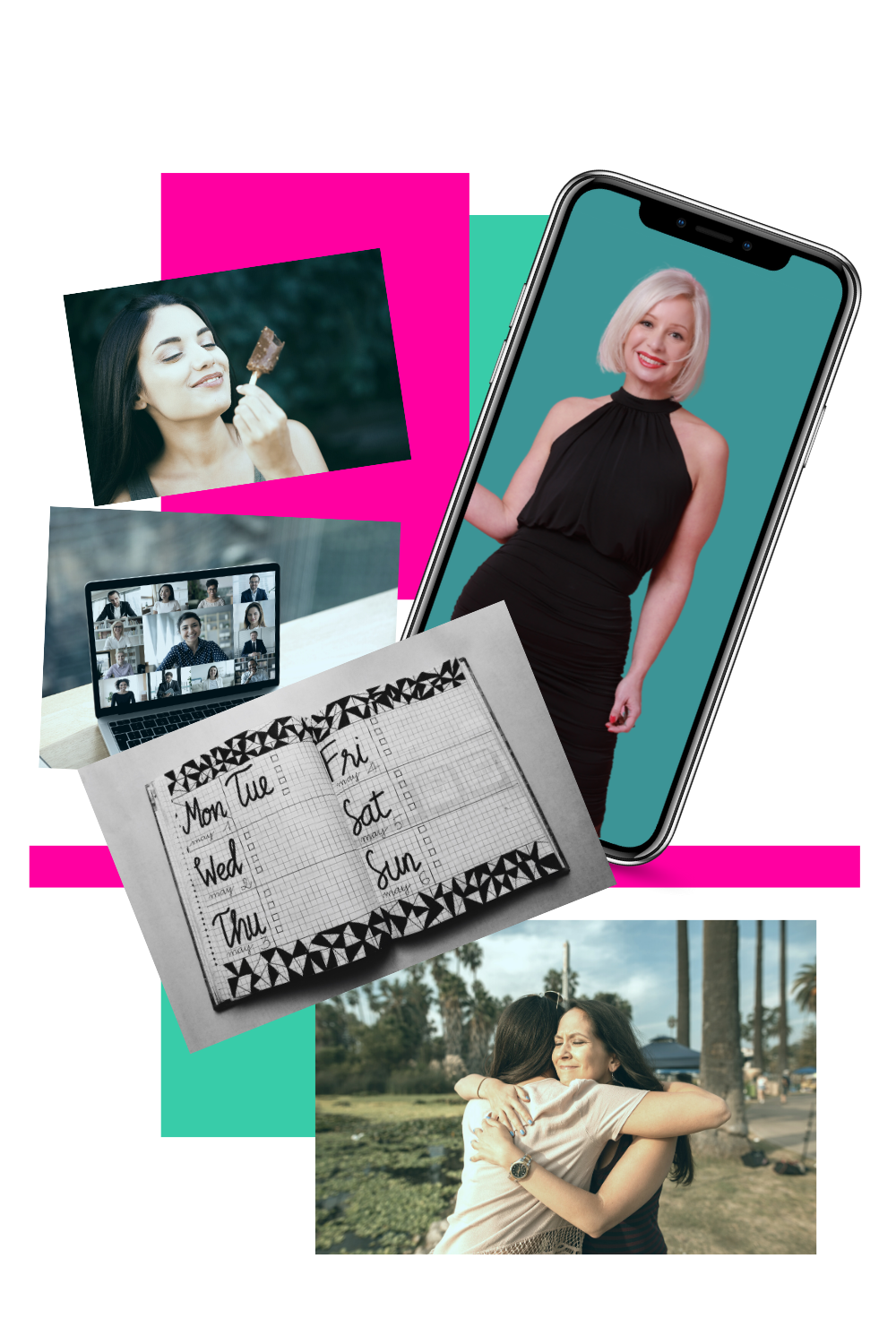 Eatiful Method

Eatiful News

1 Hour Live Video Session per week , every week

Live group coaching and support

Interactive chat

Community feel
Learn with others
You will learn more about the science behind the Eatiful method, learn how to start eating Eatifully, and learn advanced tactics for losing weight with Eatiful.

'Group' is a way to re-energise each week, set your intention and get clear on how to use the Eatiful Method to achieve your weight loss goals.


Be part of something special
As we grow, we're attracting more and more forward-thinking, open-minded people to Eatiful. Like you, they want an alternative approach; one that works.

'Group' is a chance to share success stories, ask questions and meet like-minded people who think differently about weight loss.
Upcoming Sessions
MONDAY 15th May
7.00 PM (UK)
WHEN TO EAT WITH THE HUNGER ZONE
MONDAY 22nd May
7.00 PM (UK)
LEARN TO TRULY LISTEN TO YOUR BODY
MONDAY 5th June
7.00 PM (UK)
STOPPING EATING WHEN FULL:
A NEW HABIT
Eatiful Method
Get access to the Eatiful Method for free forever.

We explain the principles behind Eatiful and why mindful eating can aid weight loss. We cover the core mechanics of mindful eating plus the critical Eatiful behaviour change tactics to make losing weight enjoyable and sustainable.

The Eatiful method is available to all members online, plus get a downloadable PDF that you can keep and print, should you prefer a paper copy.

Eatiful News
Eatiful Group membership automatically comes with Eatiful News: a great way to get the latest weight loss tips and inspiration.

Plus be first to hear about exclusive webinars and courses and special offers!

What to expect in Weekly Sessions
Many weight loss programmes include some form of face-to-face support. This is because it's great to learn from individuals with experience and to learn with other people. Eatiful Group offers weight loss support in the form of weekly live video sessions that are only accessible to group members. But what can you expect in a live session?

Eatiful Group sessions include:


Inspiration
Inspirational talks from Eatiful's founder and other weight loss coaches.
Coaching
Coaching to help you get the most out of Eatiful and learn how to practice the Method.
Social Club
Eatiful Group allows you to connect with other like-minded Eatiful members.
Celebrations
Celebrating each other's success with weight loss and non-scale victories
Tweaks
Answering any queries and adapting the Eatiful Method to suit you.
Movement
Updates on how the Eatiful craze is spreading and helping people all over the world.
Frequently Asked Questions
Not sure if Eatiful Group is right for you right now?
Here are some of the questions Group Members have asked.
How much time do I need to commit each week?
Eatiful Group is an hour-long live session each week.
Our members agree this is a good length to get into detail but still fits with their schedules.
Sessions currently take place on a Monday in the early evening time in the United Kingdom (early afternoon US). At a later date, we may well add a later live session so we can offer an early evening slot for our customers in USA and Canada. Exact times may vary slightly week to week, and we may add more days in future.
What if I can't make the session time, or If I miss a session?
You can of course watch sessions on catchup if you miss one, and you get access to the archive of live sessions that dive into a wide array of topics.
Do I have to talk in the online meetings?
No. At least half of each session is inspirational content provided by your coach. Some time is allocated to group discussion but group discussion is optional. If you want to join 'camera off' that's okay too.
I've signed up for weight loss programs in the past and they haven't worked
We hear you! We think most weight loss programmes fail because of the focus on what you eat. At Eatiful we focus on changing how you eat. Changing how you eat is not a temporary quick fix, it's something that once you've learned, you can do forever because it's enjoyable.
I find it hard to stick to diets, will I find it hard to stick to Eatiful?
We know, and we've been there! Most weight loss programmes focus on telling you what to eat. Telling someone what to eat is like taking away all their freedom and giving them no credit for their intelligence. Diets take away your control around food, and as such, they're super hard to stick to. While many people lose some initial weight on a diet, the weight comes back on once they stop the diet. And they always stop the diet because it's such an unnatural way of eating for them. Diets are by their nature, hard to stick to. Eatiful is totally different. As it's NOT A DIET, and as it focuses on increasing the pleasure you get from food, most people find Eatiful to be very enjoyable. They want to continue with Eatiful for life.
Do I get a diet or meal plan with Eatiful?
Nope. Sorry. Actually, we're not sorry. Telling you what to eat would be silly because only you know what your body needs right now.
Do I need to buy special or expensive food?
Eatiful is designed to help you enjoy food, whatever types of food you prefer and choose to buy and cook for yourself. No, you don't need fancy foods or ingredients, or supplements for that matter. You might even find yourself saving money on food as you learn that you can enjoy and feel fuller for longer on less food with this new way of eating.
Is Eatiful the same as mindful eating?
Mindful eating is a practice that involves paying attention to the act of eating and being fully present in the moment while eating. It encourages people to be aware of their physical and emotional feelings, thoughts, and sensations.
The main goal of mindful eating is to develop a deeper understanding of your relationship with food and to help you make more conscious, healthy, and satisfying choices. It is not intended to help people lose weight. However, most of the aspects of mindful eating change how (not what) people eat. And for those of us who usually overeat, mindful eating can be incredibly helpful in helping us to lose weight.

Eatiful takes all the best principles of mindful eating and adds even more. More thoughtful self-nurture, more cues to stop eating when you're full, more reflection, daily habit forming journalling, goal setting and progress tracking to ensure weight loss is easy and enjoyable.
Do I really need to spend money on Eatiful Group when the Eatiful Method is free?
We share the Eatiful Method for free because we want Eatiful to reach as many people as possible, we genuinely want people to live free from unwanted weight. The Eatiful Method is a short document (an eBook) that helps you understand the core method and the 10 Eatiful rules. We know Eatiful is powerful and for some people just reading the method once, and referring to it occasionally, is enough. Other people need more support and more in-depth help. Eatiful Group offers a level up - through the weekly sessions we explain the theory behind the concepts in more depth. Plus of course, you get to ask any questions and get the help you need.
Meet YOUR HOST
Katie Lips
Katie is the founder of Eatiful and Eatiful's Chief Coach. She set up the platform to help people lose weight after discovering the power of mindful eating. Katie suffered from overweight and obesity for years before she lost over 85 pounds with her own version of mindful eating. As a successful weight loss author and certified health coach, Katie developed the Eatiful Method to share enjoyable sustainable weight loss with others.

"There's nothing I enjoy more than helping other people to lose weight the Eatiful way. I was lucky enough to find a weight loss method that stuck with me, now I thrive on helping other people lose unwanted weight."
Achieve your goals
Join the Movement. Join Eatiful Group.
Join today for only £29 a month.
Plus get your first 7 days free.
Created with